Guide to Elemental Planes
So you want to see the Elemental Planes? It's not going to be easy. You're going to need a solid raiding force and a lot of dedication to get there. Currently, to progress through the PoP storyline you must receive certain flags. Alternative quests do not, repeat, do not, allow you to progress. For example, completing the Diaku medallion quest to gain entrance to Drunder does not replace killing Behemoth, and so on. This guide is broken down into zones and what you need to do in each one. This chart gives a quick overview. Clicking on a particular zone will take you to the corresponding section of the guide.
Clicking Plane of Tranquility will bring up an excellent map of the zone showing all the zone-in points.
At this point you should have killed Mithaniel Marr, Saryn, Tallon, and Vallon Zek. Now find the seer in PoKnowledge - she's in the building right at zone in from Tranq. Sit down and say "unlock my memories" She won't necessarily have anything to say - this is for fixing flags if you do them out of order. Now go to Maelin. He is a gnome in the PoK library. To get to him go to the bottom floor of the library and find the elevator (it has a button in the wall) Ride the elevator up to the top and he's behind the table in front of a bookshelf. Hail him and say 'I have new information' and 'I have new lore'. You may need to do this a few times. Eventually he will tell you that you need to go find Rallos Zek. If you don't get this go back to the seer, sit, then say "guided meditation" you should see this:



If you don't go back through the guide and see what you're missing. Otherwise, you are ready for Solusek Ro's Tower
In addition to Solusek Ro's chamber, killing Rallos Zek also unlocks the way to the other three elemental planes. Once you have killed Rallos along with the other listed flag mobs (Agnarr, etc) Go to Maelin, and you should see this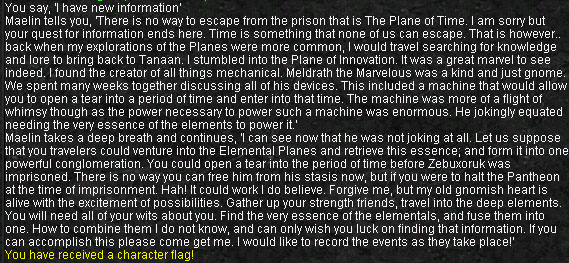 To be continued when we reach Plane of Time..
Quest Walk Through
the Plane of Torment key quest.
the Crypt of Decay key quest
the Plane of Tactics key quest.
the Halls or Honor key quest
the BoT key quest
the Aerin`Dar key quest UPDATED!
the Keepers of Sarrows Door key quest
Seer information - WTF am i missing?
Flags Summary
Plane of Justice
Plane of Nightmares
Flag from Poxbourne hedge event for PoNB

Location of Sick Bay in Tranquility: -180, -1425

Kill Terris Thule in PoNB
Plane of Disease
Plane of Innovation
Plane of Valor
One person needs to have the Aerin`Dar key

Kill Aerin`Dar (flag for HoHonor)
Plane of Storms
Crypt of Decay
Plane of Tactics
Kill Tallon and Vallon Zek (partial flags for Solusek)

Kill Rallos Zek (partial flag for Elemental)
Halls of Honor
Complete the three trials to gain access to HoHonorB

Kill Mithaniel Marr (partial flag for Solusek/Elemental)
Bastion of Thunder
Plane of Torment
Kill Mareeq and free Tylis in his event

Kill Saryn (partial flag for Solusek/Elemental)
Solusek Ro's Tower (requires Marr, Saryn, Tallon, Vallon, Bertox)
(All Elementals require Marr, Agnarr, Saryn, Rallos, and Bertox. In addition, PoFire requires Solusek)
Plane of Earth
Create key for PoEarthB

Kill the Rathe
Plane of Air
Plane of Water
Plane of Fire