Back to playing EQ since 2014
working on things now 2016
November 2008 - i Quit playing Everquest now. so no further updates to this page are planned at this time
08-30-06 - MAXED all AA's
just need to get 30 banked and im totally maxed. Good thing this new expansion is coming out with more aa's
Finished Tomb of new beginnings!
Epic 2.0 Completed!
EPIC 1.5 COMPLETED! - Lessw has his epic 1.5 now!
06-26-05 - Second to last epic 1.5 fight done
ok thanks to my Guild ES now i am 1 final fight from my epic 1.5. we did the earth shaker fight in RSoD with 2 full groups. the fight took almost 20 mins. he was mostly imune to everything spell wise we through on him
so mainly a mele fight. wasnt too bad just long we had a good tank. thanks everyone.
06-05-05 - Lessw got his Signet of Might
after many days of caming in Pofire and doing some shouting i got a tell from Caolen in Pofire. that they had a Hope Stone Rotting. i go to loot it and then a few mins later im in PoK doing hand in for ...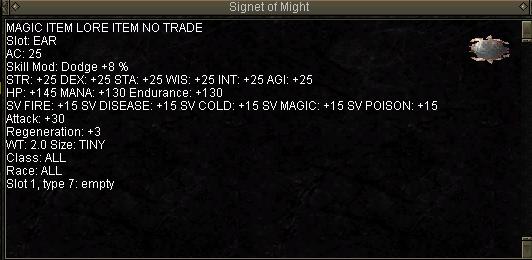 WOOT!
05-22-05 - Lessw Expert Tailor!
Finally farmed Rockhoppers enough and got 242 then did the arctic wyvern i had in the bank. and got up to 250 tailoring. so just a litle more farming to get the last 2 points from velious tailoring and the long impossible road to 300 tailoring awaits me. Special thanks to Sandy for all her help with hides and farming Rockhoppers with me.
04-26-05 - Trade Skill up Guides being added
i decided a while back i wanted to make up Skill up Guides for every trade skill., well im starting to add them in now. Hope u Like them - decided a while back to make up Skill up Guide for every trade skill., well im starting to add them in now. Hope u Like them
04-24-05 - Lessw is NOT leaving
after taking Quitting EQ for a hole 2 days. i came back!
i spent some time thinking why i play EQ, and it cus i like grouping and raiding and interacting with the people in game
and with the server merger coming so soon ( 04-28-05 ) i went ahead and renewed my accounts and will not be going anywhere.
however i will be cutting back on my game hours a bit.